Theft of Bongs Goes Up in Smoke – Dirt Bike Recovered Almost One Year After Being Stolen
Media Release
Thursday, September 14th, 2017
Dirt Bike Recovered Almost One Year After Being Stolen
A dirt bike reported stolen to the Kawartha Lakes Police almost one year ago has been returned to the owner almost a year after it disappeared.
On October 27th, 2016 Kawartha Lakes Police were contacted about two dirt bikes being stolen from a Cambridge Street South residence. On that date, the owner reported that their 2006 Honda and 2007 Kawasaki dirt bikes had been stolen overnight. Click here for original story After the theft, significant efforts made by the owner and police came up empty handed. On September 12th, 2017 the owner was scouring various buy and sell web sites in hopes of locating their stolen bikes. Perseverance paid off when they observed a bike matching the description of their missing Honda being advertised for sale in the Peterborough area. The owner contacted Police who were able to arrange to view the bike, ultimately leading to the recovery of the stolen Honda dirt bike and a stolen KTM bike that had been reported stolen to the Ontario Provincial Police.
Kawartha Lakes Police are continuing to investigate the matter and have not laid any criminal charges in relation to the theft and recovery of the bikes yet. If anyone has information regarding the theft of the bikes or the possible whereabouts of the outstanding Kawasaki dirt bike they are asked to contact D/Cst Nick Seguin at 705.324.6307 ex521, or you can email him at [email protected] . If you wish to provide your information anonymously, you can do so through Crimestoppers at 1.800.222.TIPS (8477) or at www.khcs.ca .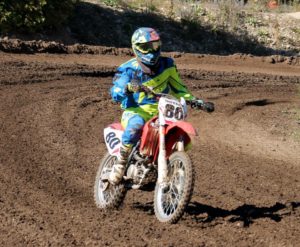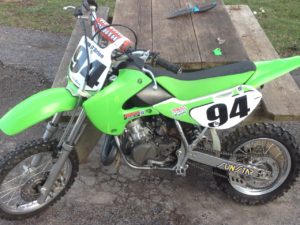 Theft of Bongs Goes Up in Smoke
A 38-year-old Lindsay man was detained in custody last night after police were called to an alarm at a William Street South smoke shop.
On Wednesday, September  13th, 2017, at approximately 10:10 pm Kawartha Lakes Police were dispatched to a burglar alarm at the William Street South shop. Police arrived on scene and observed the front entrance door glass smashed in with a large brick. With the store owners assistance, the Police were able to obtain video surveillance, which after review, identified a male widely known to the City of Kawartha Lakes Police.  The male was seen walking up to the storefront and throwing a large brick through the door and then entering the store. He was then is seen running around the counter and grabbing approximately five bongs before dropping one bong on the floor and smashing it and then fleeing the store. Police attended at the suspect's residence where he was observed wearing the same clothing as in the video. He was arrested and detained in custody for a bail hearing.
Anthony John Quinn, 38 of Lindsay, has been charged with Break, Enter and Theft Under $5000.00, Failing to Comply with a Recognizance and Failing to Comply with a Probation Order. He will appear for a Bail Hearing at the Lindsay, Ontario Court of Justice on Thursday, September 14th, 2017.