Drug Drop-Off Event Lets Kawartha Lakes Residents Safely Rid Themselves of Old Medications
 Drug Drop-Off Event Lets Kawartha Lakes Residents Safely Rid Themselves of Old Medications
(CITY OF KAWARTHA LAKES) – Here's the right prescription for disposing of unused or expired medication.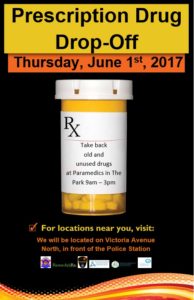 Kawartha Lakes residents can safely rid themselves of prescription and over-the-counter drugs at a Prescription Drug Drop-Off Event taking place on Thursday, June 1, from 10 am to 3 pm at Victoria Park in Lindsay. A special booth will be located on Victoria Avenue North in front of the police station for people to return unused and expired prescription and over-the-counter drugs for safe disposal.
"Check your medicine cabinets and kitchen cupboards for unwanted medications, and take them to the drug disposal drop-off event for safe and convenient disposal," says Leslie McLaughlin, a Public Health Nurse with the Haliburton, Kawartha, Pine Ridge District Health Unit.
The drug drop-off event is organized by the Kawartha Lakes Police Service, the Health Unit, Remedy's Rx pharmacy in Lindsay, Kawartha Lakes OPP detachment, City of Kawartha Lakes EMS and other local pharmacists. Previous drug drop-off days in Lindsay have proven popular, McLaughlin notes.
"Ontario is seeing a notable increase in the misuse of opioids and other prescription medication, so the drug drop-off event can help ensure these meds don't fall into the wrong hands and wind up on the street," she says.
People who are unable to make the Lindsay drug drop-off event on June 1 are reminded that most drug stores will take unused prescription medications at any time throughout the year.